We want to continue growing and innovating together and, although your time at the university is over, we want to keep hearing from you and your professional development.
We look forward to celebrating your achievements together and to your presence, initiative and participation in the activities we carry out every day at the University.
We would also like to remind you that our alumni have their own group on LinkedIn so that they can be in contact with the people who make up Alumni UDIT and thus build a space for the exchange of knowledge, relationships and inspiration among the members of our Community.
Founder of the brand Lucía de Miguel Design.
Alumni of the Fashion Design Degree at UDIT, graduating class of 2014.
Lucía de Miguel, designer and founder of the brand Lucía de Miguel Design. Her brand was born from an idea that goes beyond the traditional concept of a bride: she believes in the modern woman and supports her evolution in today's society. The woman who enters a world that has been predominantly male-dominated and demonstrates her strength and value to the rest of the world. Lucía started her business by renting a small space shortly after graduating. Despite her inexperience and the fear of the unknown, Lucía was determined to pursue her graduation project and turn it into a reality. During her first year, she worked as a waitress, trade fair hostess, and nanny, doing whatever it took to pay the rent for her space. Her hard work began to pay off, and she soon doubled her sales. Her clients were always delighted with the designs, quality, and customer service. Currently, Lucía continues to bring quality, design, and care to the most special day in her work, highlighting what truly matters on that day: the bride.
"The beginnings are tough, and mine was no exception. When I decided to venture into entrepreneurship, I didn't really know what I was getting myself into, but I was confident that it could work. Today, I can say that the effort has been worthwhile, and I am proud to have built Lucía de Miguel Design. Every day, I enjoy my work more and the time I spend with my clients."
Senior Brand Designer at Superunion. Alumni of the Multimedia and Graphic Design Degree. Javier is a designer and branding consultant with additional expertise in motion and digital design. He currently works as a Senior Designer at Superunion, the global branding consultancy of the WPP Group. Throughout his career, he has worked on the creation, development, and implementation of major international brands such as Telefónica, Movistar, Bacardi, Dia, Lidl, Tuenti, and Banco de Chile, among others. With honors in his Final Project of the Multimedia and Graphic Design Degree, as well as a Master's degree in Programming and Web Development, Javier has been awarded the Laus Award twice and has been a finalist in the Acento G Awards organized by Gràffica, the leading website for design and visual culture in Spain and Latin America.
Assistant and Buyer at Netflix. Alumni of the Fashion Design Degree. Luis entered the world of production during his internship for the degree, where he had the opportunity to work as a wardrobe assistant on one of Netflix's most successful comedy series: Paquita Salas. Since then, Luis has continued to develop his skills in the industry, allowing him to pursue his passion. He has worked as a stylist for the Tour of Operación Triunfo, dressing personalities such as Natalia Lacunza, Famous Oberogo, and Julia Medina. He has also served as a wardrobe assistant on the ATRESMEDIA series La Veneno, among others. For Luis, styling and costume design in series and film are opportunities to showcase his passion through his work, creations, attitude, and designs. To him, everything is an example of his personal brand, inner world, and unique profile that evolves throughout his personal and professional journey. He returned to Netflix to work on the series "Once Upon a Time… But Not Anymore," directed by Manolo Caro. "We work in a sector that exemplifies passion and determination, and clearly, these are two attitudes we have since the moment we decide to pursue something so vocationally driven. I believe that effort, confidence, curiosity, and humility are the keys to reaching wherever you set your goals. And I assure you, you can reach them."
Animator at Warner Bros. Alumni of the British Animation Degree at UDIT, class of 2018. Prior to joining Warner Bros Spain, Raúl García had worked with this Spanish production company on the feature film dedicated to Benito.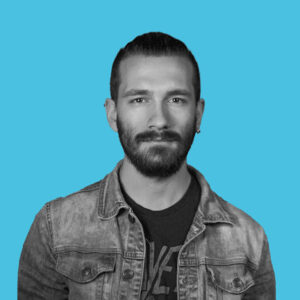 Co-founder of Wetipi, Zurich. Alumni of the Multimedia and Graphic Design Degree. During his time as a student at UDIT, he was awarded a Laus Gold Prize, and after completing his studies, he moved to Barcelona to continue his education in Art and Design Research. Later, he joined the design team at Estudio Underbau, working on editorial and visual identity projects for the National Orchestra and Choir of Spain and the Matador magazine, among others, while also teaching at UDIT. After two years at the studio, he made a complete career shift by moving to Zurich, focusing on digital product creation within the startup world. He worked at a high level of demand for over a year at Numbrs, a unicorn startup that develops one of the highest-rated financial apps in Germany, and later became a Lead Designer, with the opportunity to work remotely as a freelancer for another startup. This marked the beginning of a new adventure in which Rodrigo became a digital nomad, surrounded by new opportunities and endless possibilities. "I have visited the world's oldest desert in Namibia; I have experienced the wildest and most extreme nights in Berlin; I have slept at -40°C in the most beautiful place in the world by far, the Arctic Circle, with the sky completely green from the Northern Lights; I have enjoyed the best imaginable life in various countries in Southeast Asia… My definition of success becomes more radical every day: work as little as possible to enjoy life and human relationships to the fullest."
Founder and Director of Kika Fidalgo. Alumni of the Fashion Design Degree at UDIT, graduating class of 2017. In her work, Verónica García explores the intersections of fashion and art to understand and capture the artistic multiplicity that exists within them. She had the opportunity to live in Antwerp, Belgium, which greatly influenced her creative process and design approach. She believes that some of the references and influences she received there are essential. Her interest lies in materializing this vision both theoretically, through teaching, and practically, through her bridal fashion brand "Kika Fidalgo," where Verónica proposes new ways of understanding the sector. "This passion led me to study fashion design at this beloved university and later specialize in Fashion and Luxury Marketing and Contemporary Art."
Being a UDIT Alumni has its advantages:
You will have access to the UDIT Alumni Community on LinkedIN where you will find job opportunities, exclusive prize draws…
Virtual and physical services, and spaces within the School: Materioteca, Auditorium, research platforms…
You will enjoy exclusive discount on Experimenta magazine, thanks to our digital coupon.
You will be able to take part in the Mentoring Programme, designed to share experiences and knowledge with new generations of students and vice versa.
You will receive a personalised newsletter with information about events or fairs, competitions and school news.
Continuous training programmes
Discounts on Postgraduate Courses
Invitations to programmes organised by the School